How Do You Find Your Spiritual Path?
It's not called the spiritual destination or the spiritual ending. It's called the spiritual path because there is a beginning and an ending and we spend most of our lives walking between the two. But contrary to popular belief, not all paths lead to the same destination.
And so the spiritual path begins with a search. It begins with the search for a goal.
Step 1: The Search
The search will exist as a gnawing inside of you or a little whisper in the back of your head or a pressure in your heart. It tells you to keep looking, you are not full yet, there is more to be obtained. And you may have everything you think you could want - you may have fame and wealth and name and glory. You may have a good life and family and someone to love and who loves you. But the whispers in the back of your head will continue and you'll still feel unfilled as if your true adventure had not yet started.
That's because it hasn't.
And when you once again don't know where to go, you find yourself in the same position as Alice – asking any stranger you come across where to go from here or you look at what others have and you think, if I just had that, I would be happy. If I just made that much, I would know peace. But this state of competition, of searching for what others have, leads to jealousy, not to peace.
Jealousy is the one human emotion that does not serve us well. Fear tells us we're in danger. Sorrow tells us we lost something worth grieving. Joy gives us a sense of profound connection. Anxiety tells us that the road might be dangerous but it also might be exactly the right path to be on. And the list goes on. But jealousy? What good is jealousy?
It's a state of comparison and competition. It doesn't lead us to joy or love. It doesn't tell us we're in danger. At most, it tells us we're not content with the life we're living. As Paramahamsa Vishwananda writes, 'Judgment arises, and when they start to judge, compare, compete, they lose all sense of happiness; they lose all their intelligence; they lose all their strength, vitality; they lose their energy, they become exhausted, drained. So this is the pitiful state which one calls 'enjoyment'...you enjoy short-term happiness, but long-term suffering!'
It creates a vicious cycle of searching for something, looking anywhere for it, not knowing what it would be, thinking you can fill it, only to find yourself searching once again. These whispers, this longing for something else, something greater, are the whispers of your soul, waiting for you to pick up your bow and find Divine Love, true Love, a love that exists far outside anything a human relationship could give you. And the moment we come to accept this is the moment we come to accept the call to pursue the spiritual path and the longing of our souls.
Step 2: The Call
The call to the spiritual path is often a subtle thing. It may appear as the search changing its direction. Maybe something happens - the death of a loved one, a pandemic, a confrontation with your own fragile nature - but it leaves you with an internal feeling that calls you to transform and seek out the essence of the Divine within.
Your life may continue to look the same in many ways. The call doesn't necessarily mean disappearing to a cave or an ashram to become like the yogis of old. You might begin to seek out things that are not limited. Maybe you turn to yoga and meditation, maybe you pick up scriptures like the Bhagavad Gita, or start to seek understanding of the nature of your Self, your true Self.
Life is the most precious gift that God has given us. It's the only thing that truly belongs to us. But the aim of life, the purpose of your life, is to rediscover your true Self and realise your relationship with God. You can do this in this lifetime. Don't wait until the next one.
This feeling teaches you that the world will not fulfil your soul or the longing in your heart. Those things are far too limited for what you need them to do.
As Paramahamsa Vishwananda says, 'That light which is inside you, that essence of the Divine, always gives you a chance. That's why we say that God is merciful. He is not just damning you somewhere in the corner, in the darkness. No. You go through life, you experience certain things, but then He calls you back.'
This feeling or this call is a gift. It is the grace of God, the essence of the Divine within you, telling you it's time to find greater things than this world can provide. Learning to recognise God's help is as vital here as it will be on the rest of our journey. And when you need Him the most, the guru arrives to guide you along the way.
Step 3: The Guru Appears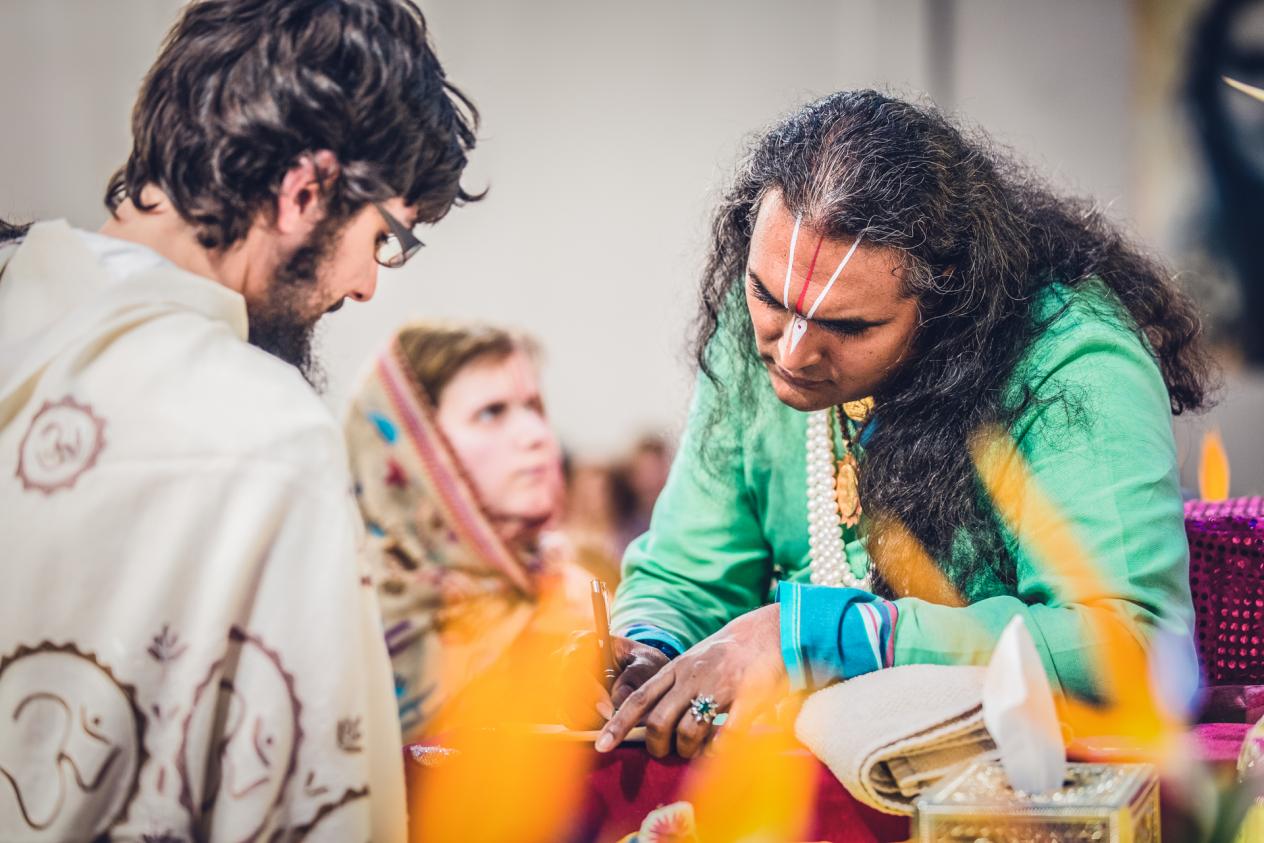 God created two worlds within this world. He created the material world and the spiritual world. In the spiritual world, we seek only the Divine, we seek only to know the Love of God. But how do you find something if you don't know what it is? You find someone who already knows, don't you?
And in our case, He will respond to your search by coming to you. Out of His Love and mercy, God sends help in the form of the guru.
The Bhagavad Gita, one of the primary Hindu scriptures ripe with spiritual wisdom, contains the teachings of Krishna. In this scripture, Krishna teaches about bhakti or devotion, the Love of God, and how to live spiritually in a material world. In chapter 4, verse 32 Krishna says, 'One should approach a spiritual Master with submission, extensive enquiry and service. Such realised souls can instruct you, for they have seen the Truth.'
Let's break this down:
'One should approach a spiritual Master with submission, extensive enquiry and service.'
Submission - this is a willingness to learn, it is an openness to the instruction of the teacher. This openness is required for you to learn and for the guru to teach you.
Extensive enquiry - come with your questions. Ask Him about God. Ask Him about Love. Ask Him about how to attain God. Ask Him about spiritual truths and wisdom. Your curiosity will help you on the spiritual path.
Service - serve your guru. It's that simple. Service shows humility, it shows your willingness and ability to listen to instruction. It is a demonstration of your dedication and love to guru and God.
'Such realised souls can instruct you, for they have seen the Truth.' When you want to study for a degree, you go to someone who has that degree to teach you. When you want God, you have to go to someone who has God already to help you attain it. And that is exactly who the guru is.
How do you know who your guru is?
This is one of the most common questions on the spiritual path. Once you realise you need a guru, you have to figure out which one is yours. And that answer is probably far more simple than we're prepared to accept.
You simply have to ask - first within your heart and then, if they are still living, you ask them for confirmation. You'll know.
What Does It Mean To Live A Spiritual Life?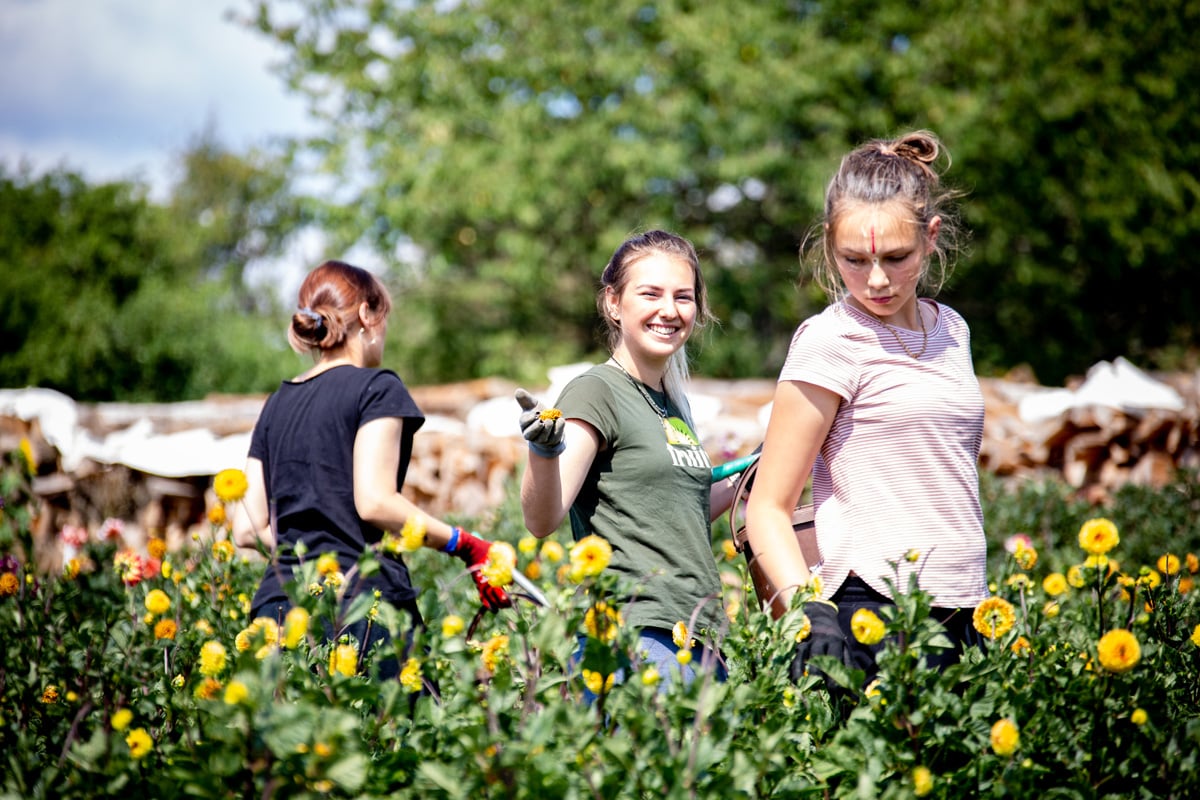 Ultimately, there is no such thing as spiritual life and material life. There is only life and how you chose to live it. You don't need to run away to a cave or an ashram and meditate like the great yogis. In fact, a true yogi should be able to meditate in Central Park without any problems. A true yogi is capable of seeing the Divine everywhere.
As Paramahamsa Vishwananda says, 'When you plant a seed, you don't expect to have a big tree by the next day. So what do you do? Every day you will water it, with the expectation that it will grow, but in your mind, you already foresee a big tree with beautiful apples on it. Probably it will take 20 years or 30 years… The same applies to spirituality. You practice...and you know that you will attain God-realisation. Be patient, in the same way you are patient when you plant a tree. Many winds and storms will come, and the same happens on your spiritual path. Be rooted, so that nothing can move you.'
But it is called the spiritual path for a reason. We're not there yet, but we can be, eventually. This is where our sadhana or spiritual practices like mantra meditations become absolutely vital. They become both our tools and the very things that keep us from falling off the spiritual path. It will take time, no doubt, but like a tree that is watered every day it will bear fruit, that will feed you for ages. Spirituality becomes how you live every moment rather than just a part of your life.
Step 4: Finding Your Spiritual Practices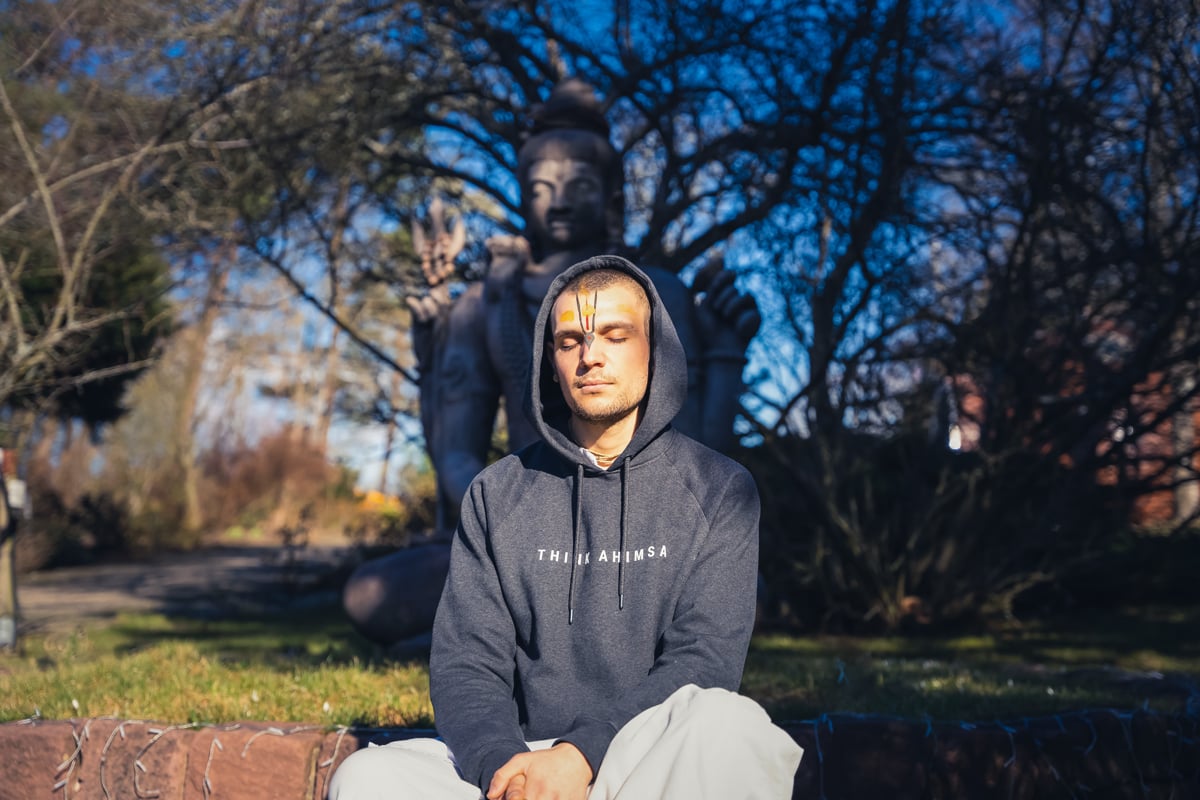 Divine Love is always inside of you. It sits, beneath layers of pride and ego, waiting for you to unearth it. The soul is always pure, but like a mirror covered in dust, it needs to be wiped down in order to shine. That's what spiritual practices do. They wipe away these layers so you can find the Divine inside of you, so you can shine that light out, and realise the Love of God.
Different Types of Spiritual Practices
Whatever practice or practices you choose, the goal is the same. The goal is to open your heart and realise the Love of God.
Embracing the Spiritual Path
Like any noble pursuit, the spiritual path requires you to grow. It requires you to discard that which does not serve you and that which holds you back. What are those things? It is anything that is not love and not done with love. Arguably, this is the hardest part of the spiritual path.
Step 5: Change & Transformation
Naturally, this includes how you live in the world. Most of us, spend our time thinking about how to change the world rather than how to change ourselves within the world. There's a part of all of us that wants to change the world. We want to be the hero of the story. We want to do good for the sake of goodness. We want to save a life, even if that life is our own. We want to rescue the cat from the tree and return the stolen wallet. Our minds go around and around in a circle, focusing on how big the problem is and how to solve it.
The problem with this is that the spiritual path isn't about how to change the world. It's about how you change yourself and live in the world. However ironically, when you do that, when you change and transform yourself in Love, you also change the world.
It makes sense, no? You are a part of the world and so how you change is how the world changes. The beauty is, we've already covered how you change yourself. It's through spiritual practices - through knowledge and meditation, rituals and devotional arts. These tools help transform you because the closer you come to know God, the more like God you become. More loving. More humble. More generous. More compassionate. More everything.
Where Does The Spiritual Path End?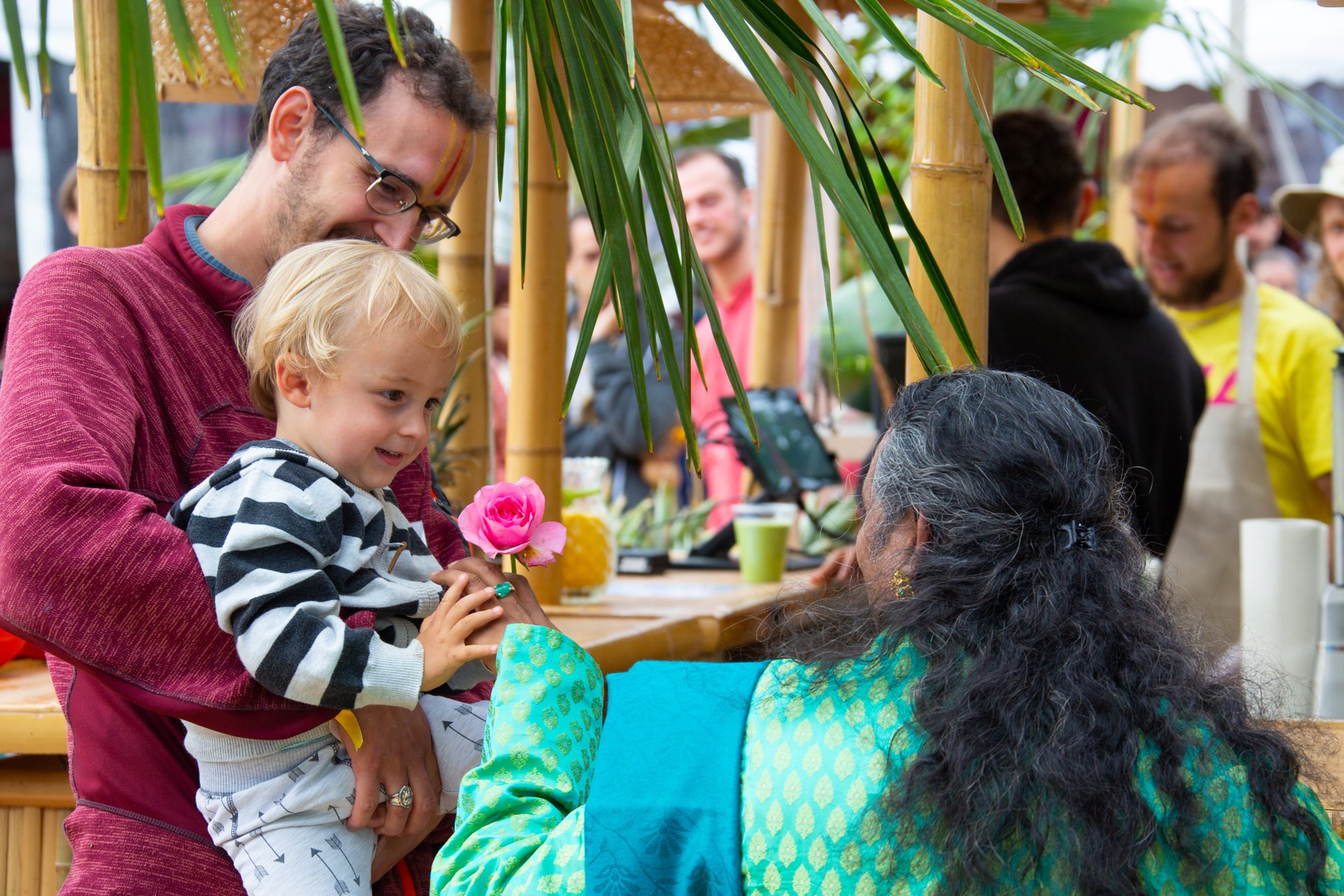 The spiritual path is about diving into a relationship with God. And only when you're truly realised can you say you've found the end of the path. But in a sense, the end of the path doesn't really matter. What matters is diving into the relationship with God because once you have that, you'll have everything.
Step 6: Embracing the Divine Relationship
We are not the fullness of God but we are part of Him. We are not separate from Him. Paramahamsa Vishwananda reminds us again and again, 'We just need to ask Him from the deepest corner of our heart to let Love manifest in the outside so that we can remind ourselves that we belong to Him and that He belongs to us.'
So what is left? What's left is to rise in love and embrace the divine relationship we begin to experience on the path. What's left is to love. Just Love.
'Just Love - a simple expression at first glance, but in truth, it is the most profound realisation of life's purpose. To love is both simple and natural. Nobody needs to teach us how to love - it is our deepest, most natural expression of being. But for the human mind it can be very difficult to comprehend. To fully understand the true Love is the thing which we are all ultimately longing for, both as an acquired experience and as a given expression; it is harder than most would think. To know where to find that truest form of Love is even harder still. But the hardest thing seems to be the journey, the path to realise this unconditional Love within ourselves.'

- Forward, Just Love: A Journey into the Heart of God
You do not have to run away to a cave or an ashram to become a yogi. Learning to live spiritually, no matter where you are, is a key part of spiritual advancement and transformation. Learn how with our free guide on living spiritually in the material world.